The Gathering Storm

The halls and corridors of Imladris are a buzz of talk and bustle.

Eldar walk clad in expressions that indicate the air of concern; they talk and debate, voices hushed and sombre - or loudly, filled with the passion of urgency. Lord Elrond has recently made known to the community of Imladris the tidings brought hither by Celegdir, the messenger from Lin Giliath. And it is not good news...

Already some argue that Lin Giliath has had its day; that the folk of that refuge should relinquish it, and withdraw to Imladris, or Lindon. What need is there for Elves there, in what is but the ruin of the northern kingdoms of the Dunedain? Let it lie empty now, and join the sleep of those other places, such as Eregion, that recall the presence of the Elves only in the memory of their tumbled stones and crumbling towers! Let the Elves of Lin Giliath bolster the forces of Imladris, against the growing shadow to the east!

Yet others debate the strategic importance of the place; despite it being little more than a library, it lies in a bottleneck that gives access from the North Downs into the fair lands of Men and Hobbit to the south. Surely then, it must be defended and maintained - even if as naught more than a glorified watchtower? And is this incursion of orcs not a warning sign that the black land of Angmar still poses a very real danger to Eriador?

"What is to be done?" they ask.

While some shrug dismissively, pointing to the strife under the trees of Mirkwood, or the raiders that probe the borders of Lorien, yet others talk urgently of preparations and mustering; they speak with determination of making ready to ride to the salvation of Lin Giliath and the land to the west, acknowledging the true danger if they are separated from the Havens on the coast.

As they prepare, many propose to set forth quietly from Imladris in small groups - thus to preserve the secrecy of Rivendell's location - and to gather in the empty grasslands of Nain Enidh before riding north to Nen Harn and thence to Lin Giliath in the narrow vale beyond.

A familiar face approaches you in the great courtyard of Elrond's house.

"I hear many different counsels this past day, my friend. What of you? Do you ride forth also?"
Date:

August 4th, 2011

-

August 12th, 2011

Time:
7:30pm BST (or your local time!) on 4th August; running 24/7 thereafter!
Location:
Start wherever you are - and make for Lin Giliath!
Event details:

The watchful folk of the northmen have observed a worrying influx of orcs and trolls east of the North Downs, that are now entrenched deep in Dol Dinen. More unsettling though, Dunedain scouts have discovered that a great number of orcs from Fornost Erain have entered the old fastness of Nan Wathren - threatening to pour down from the highlands and close the Meluinen gap. If this occurs, then the whole of the North Downs would be encircled; this dark net could constrict and lay waste to Lin Giliath, the scattered settlements of the Dunedain, and indeed the dwarven holding of Othrikar in the north. Once these defenders of the north were dealt with, the way would be unopposed for the forces of Angmar to sweep south across the Breeland, cutting off all roads between Lindon and Imladris and effectively dividing Eriador!

Thus alerted by envoys of Halbarad, Gildor Inglorion - presently staying at Tham Giliath - has dispatched several messengers bearing tidings of these developments, to Imladris, Mithlond and also to the dwarves of Othrikar, warning of the peril and requesting urgent aid. Gildor calls for all who can to gather in Lin Giliath and form a warcamp, to serve as a base from which to launch forays against the enemy in Nan Wathren and in Dol Dinen, and thereby prevent Meluinen from being overrun.

Lord Elrond has openly announced the grim tidings to those folk presently to be found in the Vale, and echoes Gildor's call for those who are able and willing to ride to the defence of Lin Giliath as swift as they can. In Mithlond, Lord Cirdan has similarly called for those of valiant heart to make haste and head off the menace of this orc incursion. The Eldar may be few in number these days, but it is hoped that there are yet enough skilled in war to face down this threat to the heart of Eriador.

Though Lin Giliath is indeed a refuge and waystation of the Elves, it should be remembered that it lies deep in those lands of ancient Arnor, home to the Dunedain. While Halbarad has given his unconditional blessing to Gildor's call for help, those who answer the call should remember to offer respect to the decendants of Numenor, and avoid charging recklessly across Kingsfell; such activity may be seen by enemy scouts, and you may unintentionally blunder across the discreet settlements of the Dunedain, rendering them vulnerable to attack. Naturally, any northmen who travel to Lin Giliath will be warmly welcomed for their invaluable knowledge of the lie of the land in the North Downs these days - and of all that walk upon its soil.

The messenger Celegdir bore the very map sent to Gildor by Halbarad. It shows the concentration of Orcish forces, stained with colour to reflect the estimated hardiness and preparedness of those in each area of the terrain: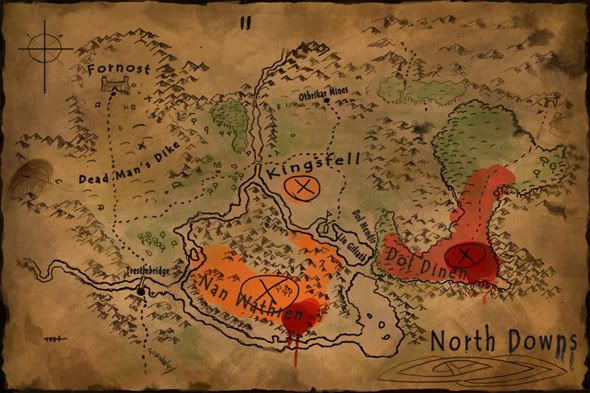 OOC details:
What is the Gathering Storm?

It is (as far as we know) the first attempt to hold an event that is truly inclusive on a global scale. The shackles of local time are of no consequence to us - so ignore any gametime but your own! The aim is to offer an event to the community as a whole, where players from ANYWHERE on the planet can feel they hold an equal share in its success. No need to log in at odd hours to participate; wherever you are, you join in when it is convenient to you! If a player can log in at any time and find some RP activity in the camp to contribute to, then that would indeed be a wonderful success. Whether you hail from the EU, UK, US or Oceania, this RP event belongs to ALL of us!


So what can players expect from this event?

First off: this event is NOT in the least about Loth-i-Lonnath!

We are not in any way in control of it; there is no 'script', no gameplan and thus, no 'proper ending' or 'sequence of events' to expect (though see On the duration of the event below!).

While we may be seen as facilitating the launch of the event - and will loiter around Lin Giliath to offer RP 'support' and suggestions or help if you require - we are no more important than anyone else who attends. The event's success rests solely with the participation and engagement of those who choose to come along and join in: YOU!

Every character and every kinship who come along are all equal members of the 'cast'! The locations and focus of activity of the event serve only as a shared peg for every participant to hang their own RP storylines upon; in so doing, we all share the endeavour and weave one big, overall tapestry of our joint exploits in preventing the Enemy from succeeding in his objective.


What are we supposed to do when we get there?

In essence, the campaign goal is to create a 'skirmish camp' ambience at Lin Giliath, where many different kinships / individuals can gather together and interact, engaging in RP that might reflect how such groups forge a bond of fellowship - or even friendly rivalry - when coming together to face a common foe.

It is hoped that a sense of community will flourish among the different groups who attend. When EU players return to camp for rest and recuperation after an evening's forays against the enemy, it is a chance to meet and share news, tale and song with those NA players who are logging in to step forth on fresh patrols and raids on the orc camps; likewise, when the NA players hand over their 'watch' to the players from the East and from Down Under, the cycle of cooperation and shared endeavour continues, until the European players log back in and so on. With luck, it should evoke a sense of that camaraderie and shared purpose that is forged between allies, and give us all an impression of the ongoing struggle against the enemy, even while we ourselves are resting back at camp (i.e.: logged out!).

Kinships and players are entirely free to do whatever activities they wish! If you want to hang around at camp and RP there - great! If you want to go on patrol around the area - fine! If you prefer to mount up and thunder off up the Wathren pass to slaughter orcs - or silently slip into the forest of Taur Gonwaith to ambush trolls on your way to raid Dol Dinen - wonderful!

If you form one huge raid and sweep through Nan Wathren, it is assumed that another wave of orc reinforcments arrive shortly after - giving the rest of the camp an excuse to do it again!

It is hoped that Lin Giliath becomes a buzz of activity during the campaign, with plenty of wine, food, song and tale by the campfires to keep our morale up. I am sure there are a few kinships who might be keen to spend much of the event attending to the wounded; if some folk wish to play wounded characters for the duration, enjoying the soothing attentions of the healers (and I know some have considered it!) - excellent!

We positively beg and encourage all who participate to post on this thread tales and journal entries of their adventures, their setbacks and their victories over the course of the event. The more the better! Let us hear the highs and lows of your exploits!
Above all, we would also love to see your tales appear as new entries recorded here in the Laurelin Archives! Simply add 'The Gathering Storm' in the Event link section of your posts to have them appear below, as proud testament to your brave deeds! :-D

Why Lin Giliath?

Apart from the strategic scenario reasons given above, the main advantage of the North Downs is that it is a good mid-level range area, with plenty of quests to keep a broad range of levels busy. It also offers a good IC reason to kill orcs and pickup the Return to Rivendell deed, and for folk at level cap to return and complete all those North Downs Fellowship quests they skipped (I know I have a few!) and to run the Dol Dinen skirmish as cohesive parts of the offensive to push the orcs back. The main reason though, is it allows a lot more folk to engage in some stirring, epic RP than it would if set in an endgame area!

Who is the event aimed at?

Anyone who wishes to attend! Though it should be stated that while it may be deemed an 'Elf-preferred' event, it seems reasonable that some of the Dunedain and dwarves that compose the other free folk of the North Downs would also be welcome to add their skills to the defence - and added colour to the RP of the camp!

On the duration of the event

It might be assumed that the end of the event - midnight on 12th August, local time - signals that the enemy is bloodied enough that the immediate threat is at an end: reinforcements have dried up, and enough orcs have been routed to prevent a large scale attack on Lin Giliath and beyond.

However, if folk wish to stay on at Lin Giliath after this to stand watch and mop up any stragglers (certainly we intend to remain there IC for a time), then that would be a welcome outcome - as is any activity that gives a bit more life to any hub in the game.
There is no requirement to stay in Lin Giliath for the duration of the event; characters who stop by for a brief assault on the enemy before departing to attend other matters are just as welcome as those who do immerse themselves for the week!

When does it start?

7.30pm (BST) on the 4th August for those of us in the UK / EU. Our own kinship is leaving Rivendell discreetly the previous evening, and can be found near the stables of Ost Guruth for those who wish to gather for the leg of the journey that will take us to Lin Giliath (departing Ost Guruth at 8pm (BST) on the 4th).

Wherever you are, feel free to make similar arrangements to travel in the company of others who share your timezone, travel alone - or if you wish, log in at the time above and gather with us - whatever suits you best! And yes, I guess those of you from Down Under could feasibly start your own journey well before us - at 7.30pm local!
Music put together in Aviary by Aearandir
Adventures related to this event
Images related to this event