Lisbaeth
Lisbeth Harrow
| | |
| --- | --- |
| Name | Lisbaeth |
| Status | Active |
| Occupation | Apprentice Scribe in Town Hall of Bree |
| Age | Young (22) |
| | |
| --- | --- |
| Race | Man |
| Residence | Bree, first house on the left side from Pony to Boar fountain |
| Kinship | None |
Outward Appearance

She would capture your gaze easily, with soft brown locks, and blue eyes, unusual for a Breelander. Of average height and figure, she is mellow and soft hearted scribe in Town hall. As aspiring scholar (and adventurer) she is seen in modest, very conservative cuts of dress, mostly in tones of blue. Her waist long hair is overnight braided, appearing over day with lush waves of soft brown hair, with simple pin pulling some hair off her face. She has few earrings made of simple blue stone on silver cast, that she wears daily, and silver ring, made of two small birds is seen on her fingers.

One cant call her gracious, but she is not also a brute when she walks. She is quick on her steps and sometimes too quick, often to be seen tripping over cobble stones, carpets or just uneven boards of floor.

She would also squint as looking into distance, unable to make faces straight until gotten closer, which reveals she is shortsighted (due to too much reading perhaps).

Lisbeth is well spoken, and she restrains herself from usual Breelander dialect, due to mothers insisting that all of her children will speak properly.
Background
Bits and pieces
Weekly income: around 12 silver coins, she can earn additionally on private tutoring and as scribe.
Weekly expenses: around 15 silver, part of her expenses are covered by side jobs or help from her brothers and family.
Place of living: She has rented apartment on second floor, with two bedrooms and one common room, that she shares with Bree-lass Deorda. The townhouse is just first on the left, from Pony to Boar fountain.
Occupation: Apprentice scribe in Town hall (working now for two months time), so most of watchers or other town hall employees would know of her. She for now mostly delivers mail, messages, or attend meetings as a scribe, fetches meals or just sort the ledgers in shelves.
Skills: Writing and reading, painting, drawing, miniature art in books, mediocre cooking and no survival skills at all.
Flaws: Can do too many projects in one time, and finishing none, she is prude but a bit of a hypocrite, strong willed (she broke her arranged engagements as she didn't want to get married of yet).
Health issues: Shortsighted
Romance and life philosophy
After breaking engagement that were forced by her father, cause he wanted connections with wealthy mill owners, she set her heart to be free of any permanent bonds. She does belive in family but also fears of it, noticing how mothers talent for writing and art were doused by needs of her husband and family.
Lisbeth is very liable regarding affection, especially those revealed in public. Gaze and stolen smile is more then enough for her, until she is alone with one. Then her warmth and open mind is revealed, she does not hide her needs, but will not either put them in open. Currently she is suffering from unreturned infatuation toward Dagramir, considering Red-headed Dandy Narys her mortal enemy (but part of Lis admires her a lot).
After shading off the odd relationship with not so much emotions on her side with Nesben, she is trying to be secretive about her romantic interests, cause of her family and shame that could fall.
[Harrow's and Hart's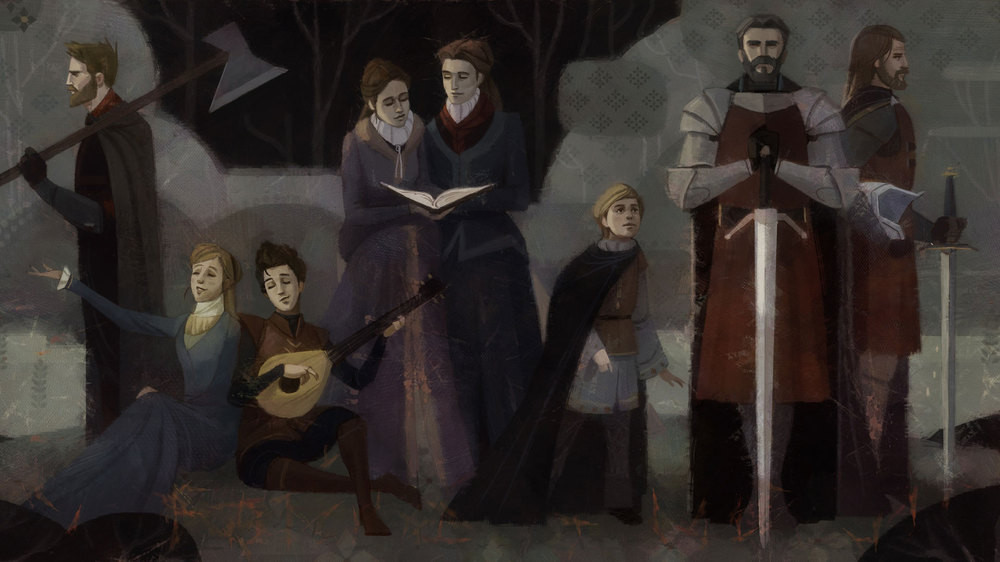 Harrow family counts for generations that they were on the same plot of land, half of mile away from Bree, south of the great road, a large modest farmhouse was raising in the view. Few generations were always living together there and in last one in which Lisbeth was born it was a house full.
Jacob Harrow (62), father
Emellin (51) Harrow, born Hart, mother
Farren Jacob Harrow (29), eldest son of Jacob and Emellin
​Maxwell Harrow (27), second son of Jacob and Emellin
Waylen Lenny Harrow (24), third son of Jacob and Emellin
Elisa May Harrow (22), daughter and fourth child of Jacob and Emellin
Lisbeth Harrow (20), youngest child of Jacob and Emellin
Rosemary Harrow (85), mother of Jacob Harrow, grandmother to Lisbeth
​
Hart family
Harts count only one living member, misfortune followed this Bree dwellers, famous for their flare for adventure and scholarly prowess.
Andrath Hart (15), orphan and nephew of Emellin Hart, his father went missing after heading to south to..take a stroll. Hester, mother of Andrath died at birth, so child was sent to Harrow family.
<3
| | |
| --- | --- |
| Friends | Friendly by nature, she call many a friend, but only few count as a great friends. |
| Relatives | Parents, four older siblings (three brothers and a sister) , other relatives. |
| Rivals/Enemies | Spilled Ink over finished work |
| | |
| --- | --- |
| Loves | Smell of paper and books, blue flowers ( Forget me not ), history and stories |
| Hates | When on last passage she falls asleep |
| Motivation | That some of her work be of use to future generations as many helped her |
| Quotes | - "Interesting!" - |
Lisbaeth's Adventures
Lisbaeth's Adventures
Lisbaeth's Gallery
Lisbaeth's Gallery