Hallothel
Hallothel
| | |
| --- | --- |
| Name | Hallothel |
| Occupation | wanderer |
| Age | young adult |
| | |
| --- | --- |
| Race | Elf |
| Residence | Lindon |
| Kinship | |
Outward Appearance

Hallothel has fair skin, black hair with golden streaks and blue eyes. She is more petit and not quite as slender as an average elven lady, this gives her a more robust look and a less fragile appearance. Her countenance, hair and attire speak of an Elleth that is used to working and spending her days outside in the sun. She enjoys pushing herself physically to test her limits and hone her abilities and skills.
None the less she shares the same interests and dreams as her female friends and family enjoying to wear fine attire and making every effort with her appearance when the time suited and sometimes when she simply felt like it..
Background
(push button to stop audio)
Hallothel was born in the lands of Lindon. She lived with her family in the woods near the lake Gelion. Her family had settled there when returning to the undying lands pausing in middle earth till they felt it was truly time. They were restless spirits; faint dreams caused her family to wander around in the woods for many years. Songs were made, all of longing, hopes and the future, sometimes a quiet choir of voices could be heard at night..
Hallothel's family were skilled craftsmen, hunters and trackers. Instructed from a young age, she soon learned how to survive in the woods and surrounding lands. Learning how to blend in and keep herself hidden using the fauna and by using swift quiet movements and appropriate attire. The skilled hunters she knew would often praise Hallothel at her ability to move unseen, although she had a lot to learn to in the mastery of the bow.
Hallothel was restless in her heart though. She loved the woods, but she felt her fate did not belong to this place. She had heard the whisperings of the shadows from the East, sorrow grew inside her. Would it hinder her and her family to go to this place they all longed so much for? She decided she wanted to venture out of Lindon. To see what else could be seen in Middle-Earth. She wanted to gather memories and answers before she left Middle Earth.
After some months she had her first sight of Imladris, the beautiful vale kept her attention for days and it was during this time she encountered Istuir a Warden of the Flower. Loth-I-Lonnath was well known to her, their deeds to guard and protect Lindon had in the past captured her imagination. She discovered he had been acting as an emissary on behalf of the Flower. Hallothel already knew whom he was (a warden) and his Herth.. More than once she had heard about the fair riders patrolling the borders around her home Lindon. So after much initial conversation and several encounters and discussions with Istuir she realised that perhaps her fate was not to wander around and seek answers, perhaps her purpose was to go home and make use of her abilities as hunter.
He observed her restless behaviour and her deep respect for the Flower, so slowly her eyes returned to the woods and realm of Lindon.
She decided to join Istuir on his return to Ered Luin from the Vale. Her heart was confused and she was not sure if she had made the right decision.. it wasn't until she met Aearandir, - another Warden of the Flower in Thamas Lorn, that Hallothel truly opened her eyes, and she understood what she truly wanted...She wanted to be one of them, a member of the Flower..
Hallothel, The Scout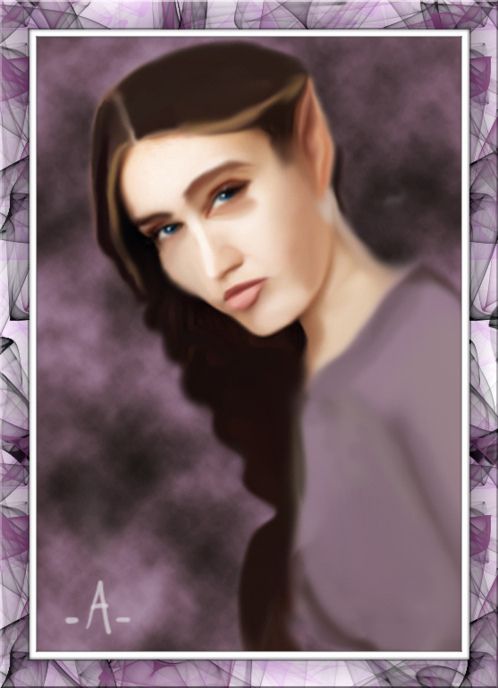 Hallothel, The Elleth
Hallothel and Istuir
Music: Tumna Maivoine (written and arranged by me)
A dream so dark, but beautiful...A wound that bleed and never can heal. Draw not unto me.. for I cannot resist..A wish so strong, but can it come true..
| | |
| --- | --- |
| Loves | Istuir, music, poetry and be outside in the Woods |
| Hates | |
| Motivation | To serve the Flower |
| Quotes | |
Hallothel's Adventures
Hallothel's Adventures
Hallothel's Gallery
Hallothel's Gallery